There is plenty of competition between the cryptocurrency markets on top trading platforms.
Cryptocurrency traders always want to maximize their chances of profiting from speculative assets. This means margin trading platforms, such as PrimeXBT, are getting ever more popular.
PrimeXBT is an especially valuable currency trading exchange because it has a number of special features and characteristics other margin trading platforms do not.
With this review, we will explain more about what makes PrimeXBT so special and help you figure out whether this might be something which would be helpful, as well as offer advice about how to get started if you do opt to sign up.
PrimeXBT Benefits
This ADVFN award-winning margin-trading platform is Bitcoin-based, and offers up to a thousand times leverage on forex, cryptocurrencies, commodities, and stock indices.
PrimeXBT first opened its books to the market in early 2019 and they currently have over 30 employees and boast an impressive $375 million in daily volume.
Here are some of the most important features of PrimeXBT:
➢ Quick and easy registration
➢ Low minimum requirements and deposit minimums
➢ Straightforward withdrawals (including address whitelisting and bank-level security)
➢ Fantastic trading engine with excellent security
➢ Bonus revenue streams (eg referral programs and CPA offers)
➢ Free demo accounts
➢ Educational materials included
➢ Stop loss and take profit orders
➢ Innovative advanced tools putting this platform ahead of others
➢ 24/7 live customer service available
➢ Built-in technical software with features key indicators
➢ 100x times leverage on crypto, stock indices and commodities
➢ 1000x leverage on forex, gold and silver
As you can see from this impressive list of features, PrimeXBT is an appealing platform which is ideal for new users. There are plenty of useful tools to make it a good choice for seasoned users also. Now let's take a look at some of PrimeXBT's key aspects.
The Registration Process
You can expect a very easy registration process. All you need to give is a valid email address and the country where you are living.
Then it is simply a case of choosing a username and password. Confirm your email and you are then all set to make your first deposit and start trading.
Making Deposits
Because the accounts are denominated in BTC, every deposit has to be made to a BTC address. The minimum deposit required is 0.001 BTC.
Once the deposit is confirmed your funds are available. You might like to use Changelly, a third party instant currency exchange platform, to make more deposits.
Once you begin to make deposits, you need to fund the trading account. This will help you keep some capital separate from what you have for margin in the trading account.
Making Withdrawals
Remember to always send funds to another BTC address, because if you send them to a different cryptocurrency address you might lose them. That is the most important thing to bear in mind about withdrawing funds.
Withdrawals are added to a queue throughout the day until the processing window closes. They are then addressed and you can expect once-daily withdrawal processing.
Any pending withdrawals may be canceled until it is time for the rollover window ahead of processing.
The Trading Terminal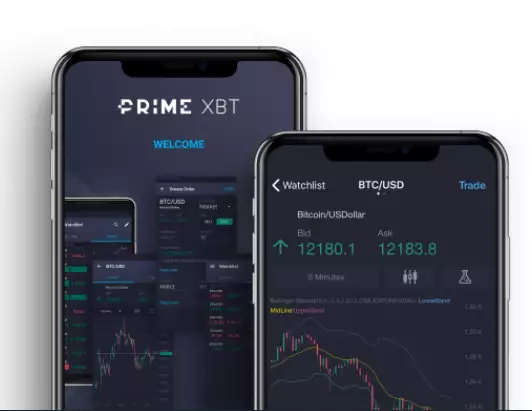 There are plenty of customizable options according to your preferences on the trading terminal.
Expect a variety of widgets, including watch lists as well as charts which have built-in analysis software. There are also useful trading indicators, like Ichimoku, RSI and Parabolic SAR to name just a few.
Short and long positions may be opened immediately for hedge positions, so the trader is able to profit however the market turns. The orders execute fast and without errors. You can count on reliable uptime about 99.9% of the time with PrimeXBT.
Traders are able to minimize risks while maximizing profits with stop loss and take orders.
PrimeXBT Assets
There are more than 50 unique assets, and this list includes the following:
➢ Different cryptocurrencies (eg Ripple, Bitcoin, Ethereum)
➢ The most popular forex currency trading pairs across USD, AUD, JPY and more
➢ Commodities such as natural gas, WTI Crude Oil, Brent
➢ Precious metals like gold and silver
➢ CFDs for major stock indices (ASX 200, DAX 30, S&P 500)
As you can imagine, such a variety gives traders a great opportunity to obtain a diverse portfolio as well as further chances to obtain profits.
PrimeXBT really does stand out from its competitors in this way. This trading platform offers incredible value to traders when examining traditional markets.
PrimeXBT Referral Program
According to our leaderboard, PrimeXBT's option trader has already generated more than 50 BTC.
When a referred trader introduces new traders to the platform and then those bring in yet another layer of traders, the original client who make the first referral in the chain can earn benefits for up to 4 commission levels, with these layers applying to how many referrals there are removed from the original ones.
Exclusive ambassador relationships and CPA offers are also featured by PrimeXBT, which come with their own personal customer care reps to assist you.
PrimeXBT Customer Service
The customer service used by PrimeXBT works via online chat and it is available live 24/7. Knowledgeable reps are ready to assist traders with any issues about using the platform.
There is also a help center, which offers regular updates and guides, and also publishes other information on the company's blog. Further help can be found on PrimeXBT's official social media pages.
Turbo – Another Useful Tool
This novel tool was recently launched as a separate platform apart from PrimeXBT. It deals with synthetic, short-term BTC contracts.
A trader may choose an up or down contract and get either a profit or a loss within a 30-second, 60-second or 5-minute window. This can be useful in markets with tightly ranges or those lacking defined trends.
PrimeXBT Security
Extensive measures are taken to protect the platform and eliminate any disruptions. Cloudflare technology and encryption are used to prevent DDoS attacks.
Two-factor authentication helps to keep accounts secure, while withdrawals have whitelisting in place. Barely any personal information is collected when you register though, which is another clever security measure.
The majority of the coins held at PrimeXBT are kept in 'cold storage' meaning a secure offline environment away from the internet and threat of any hackers.
In Conclusion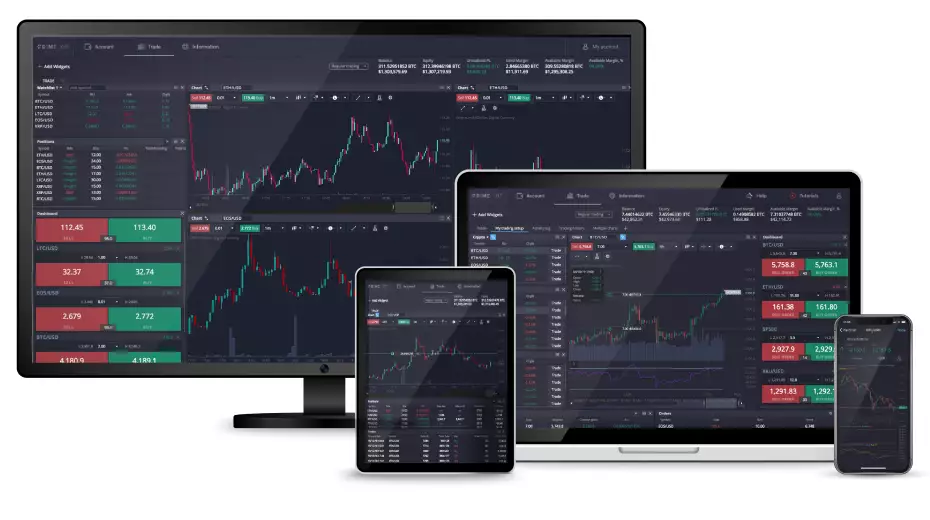 PrimeXBT offers traders a competitive edge which sets it apart from most other platforms. They have won a number of awards lately, including the ADVFN award for Best Bitcoin Margin Trading Platform.
Traders can enjoy a super-quick registration process, profitable tools and plenty of traditional and digital features.
If you are interested in seeing what PrimeXBT can do for you and you want to trade, why not sign up today for a free trading account?
The easy to use platform and impressive range of innovative tools will help you quickly begin to make a profit with PrimeXBT.