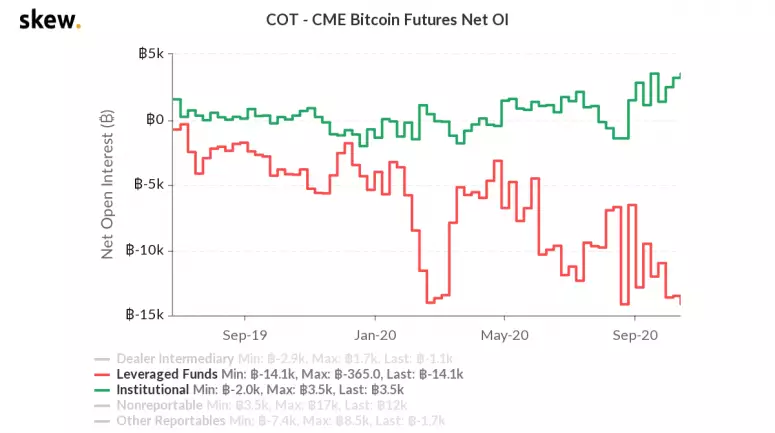 Institutional investors have raised bullish rates on bitcoin futures at the Chicago Mercantile Exchange (CME) to record levels, CoinDesk writes, citing a Friday report by the U.S. Commodity Futures Trading Commission (CFTC). During the week ending October 13, the volume of institutional longs increased by more than 9% to 3,500 contracts. The last time at comparable levels, the indicator was in mid-September.
According to the analyst, the stability of positions on Bitcoin against the background of a recent series of negative events could inspire confidence in investors. Bitcoin continues to trade above $10 000, despite the hacking of the cryptocurrency exchange KuCoin and the prosecution of BitMEX by the US authorities. This week, the OKEx exchange was added to them, the withdrawal of funds from which is still impossible.
"If these events occurred last year, the bearish impact on the price of Bitcoin would be much more tangible," said CEO CF Benchmarks Sui Chung.
The derivatives market is now less dependent on exchanges like OKEx and BitMEX than it was a year ago. In September, the two exchanges accounted for over 70% of the volume of active positions on Bitcoin derivatives. Chung believes that the observed phenomena can serve as a sign of the formation of cryptocurrency space.
Hedge funds and other types of players trading on borrowed funds, on the contrary, increased short positions by 4% to 14,100, which corresponds to the August levels.
However, Crypto Broker AG senior cryptocurrency trader Patrick Hoysser believes that this should not necessarily be a bearish signal. He admits that such positions may belong to traders who simultaneously buy an asset on the spot market and take a short position on the derivative if there it trades with significant overpayment. By the end of the month, the futures price is getting closer to the spot price, which creates a favorable opportunity for arbitration.