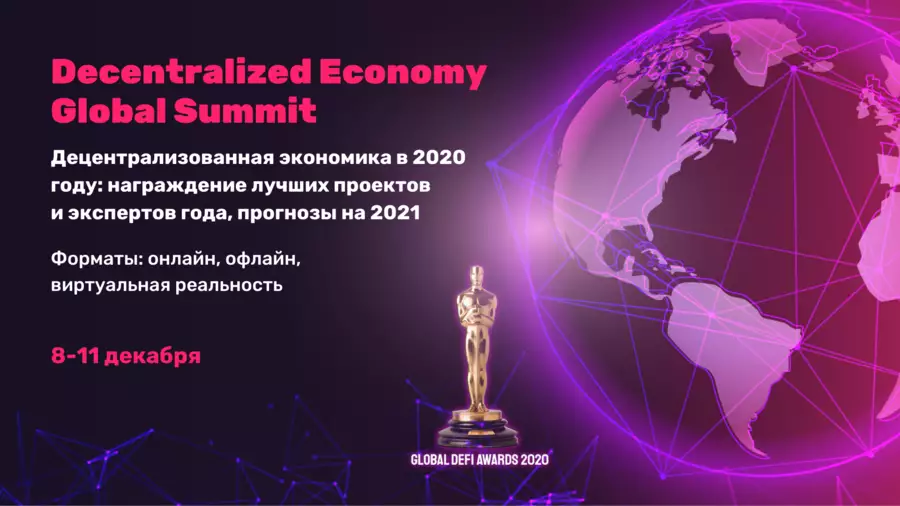 Decentralized Economy Global Summit 2020 will be held from December 8 to 11, 2020 – a four-day online & offline conference with the participation of more than 50 world speakers.
Experts will share their knowledge about DAO, DeFi, decentralized and centralized cryptocurrency exchanges, mining, crypto processing, income farming, decentralized media and Web 3.0. They will talk about the results of 2020 in the decentralized finance market and reveal their forecasts regarding this fast-growing market for next year. On the final day of the summit, the award of the best projects of the year in the decentralized economy sector will be held.
From November 23, all conference participants will be able to vote for the most successful projects in the field of decentralized economy in 10 nominations, including DAO clubs, exchanges, startups, platforms, Web 3.0 projects, as well as the best investors, entrepreneurs, programmers, speakers, influencers and digital consultants. Winners will be announced at the award ceremony, and the most active participants in the summit will be able to win valuable prizes.
The conference will be attended by cryptocurrency traders and investors, entrepreneurs, founders of startups, project managers, DeFi influencers and everyone who is interested in the opportunities of the new economy.
Among the speakers of the summit:
Felix Mago, co-founder of Dash NEXT
Tone Weiss, content creator, trader and derivatives consultant
Vit Edlicka, politician and activist, president of the micro-national state Free Republic of Liberland
Mru Patel, investor, bestselling author, president of EXcoin Futures and founder of eWealthTech
Jorge Sebastiao, experienced ICT expert in cybersecurity, artificial intelligence and blockchain, CISSP Technical Director, Advisor, Speaker
Ilya Churakov, founder of DAO Consensus
Denis Smirnov, co-founder of Uni.DAO
Sergey Sergienko, founder of chrono.tech
Georgy Galoyan, founder of DAO.vc
Andrey Vengerets, founder of Neironix
Ilya Maksimenka, CEO of PlasmaPay
Faku Amil, Public Relations Manager at Yearn.Finance
Sergey Simanovsky, Cyber-Congress DAO/Citizen Cosmos
Munir Benchemld, CEO of ParaSwap
Miguel Francis-Santiago, founder of The Future is Now
Rico Pang, co-founder of FIDO PROTOCOL
Decentralized Economy Global Summit will be held in the format of an online and offline conference, and will also be broadcast directly on the blockchain virtual reality platform Decentraland.
The official language of the summit is English. The first and second days of the Summit will be held in English with simultaneous interpretation into Russian. The third day of the Summit will be held in Russian with simultaneous translation into English. The fourth day of the summit will be held offline with live broadcasting.
You can register for Decentralized Economy Global Summit on the site.
Recently it was reported that Vietnam will use TomoChain to issue education documents.