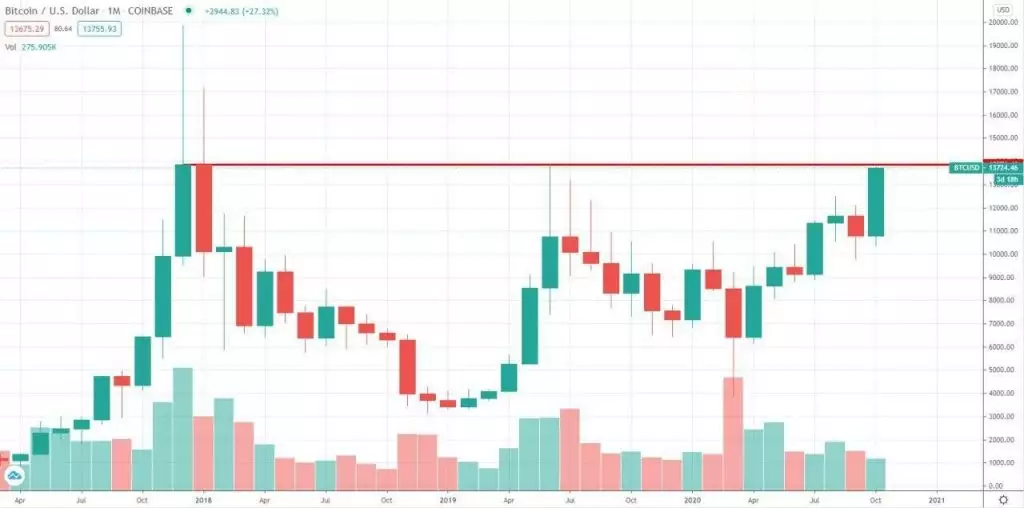 The cryptocurrency rate of Bitcoin rose on cryptocurrencies approached a two-year high. On the night of October 28, the value of the asset reached $13,859, while in June 2019 it rose to $13,970. Analysts note that comparable growth was observed in January 2018.
Bitcoin, according to CoinDesk, at the beginning of the day on October 28 traded at $13,666, an increase of 4.06% per day. The capitalization of the main cryptocurrency amounted to $253.2 billion.
Bitcoin rose resumed in early September, when it began to rise from a local low of $9,825. Since then, growth has been 40%. The share of the first cryptocurrency in the market reached 62.5%.
Recall that in general, the largest digital currency Bitcoin since July 2010 soared in price by more than 9 million percent. It turns out that over the past decade, bitcoins have earned better than gold and securities. It was Bitcoin that was recognized as the best investment of the decade. The peak of the popularity of cryptocurrencies occurred in 2017, when 1 bitcoin cost 20 thousand dollars.
At the same time, since the beginning of 2020, 75 exchanges for cryptocurrency trading have closed in the world. This is already 56% more than in the same period in 2019.
Accordint to the The Chain Capital: Bitcoin implementation could reach 90% by 2030.