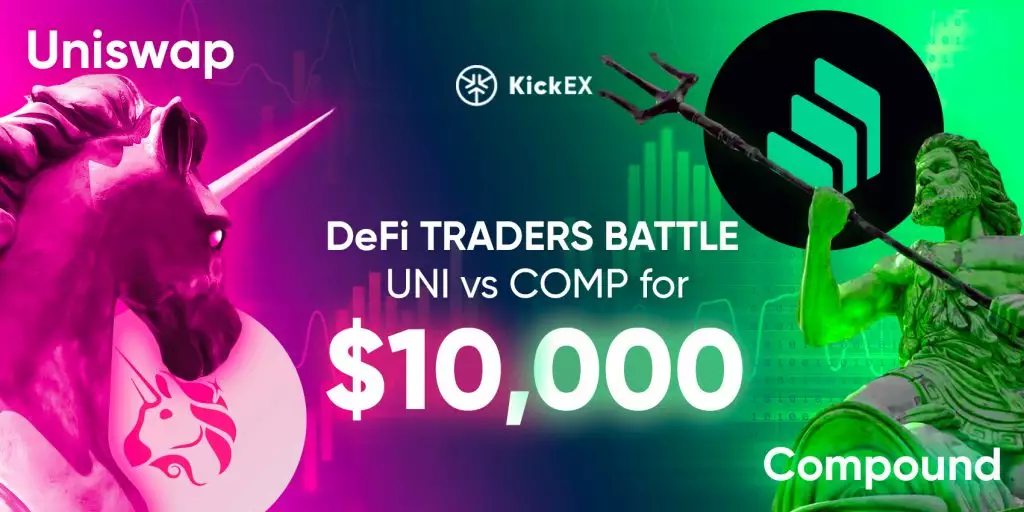 On October 22, at 15:00, a trade battle began among traders on the cryptocurrency exchange KickEX. This time, the prize pool has already amounted to $10 000: $2000 in USDT, $1500 in UNI/COMP and $6500 in KEX. Also, all players, regardless of the place in the ranking of traders and the victory or defeat of the team, will be given native KEX stablecoins for participation. So, slaughter is a kind of win-win battle. KickEX promises to distribute prizes within a week of the battle. Cryptocurrency will be transferred to participants for their wallets, and fiat awards will be paid taking into account the current exchange rate.
Game Rules
First, to participate in the battle, you need to register on the KickEX website, pass identity identification (KYC) and make a deposit. In the next step, the user chooses which team he will fight for – UNI or COMP, and then he can only fight – that is, trade.
Depending on which tokens in the trading volume of the player at first are larger, and it is determined which team the participant fights for. All players have four transaction pools:
UNI/BTC
UNI/USDT
COMP/BTC
COMP/USDT
Every hour, the site updates information about the situation in the game. During the first week, the results of both teams will be hidden, but the list of top traders is always in the public domain from the first day of the competition.
The jury evaluates only those transactions that were made during the battle on the KickEX platform. Players also cannot trade with themselves. Such actions will be considered as reading, and the participant will be disqualified by the organizers of the competition. However, all players have the right to use bots and APIs to increase trading volumes, which raises the degree of battle well.
The battle will end on November 15 at 15:00 Moscow time. Traders will immediately see the finalists on the rating list. Later, the winners will meet again in battle, but already for the secret token KickEX, which the team plans to announce in the near future.
Recently it was reported that bitcoins stolen from the KuCoin passed through the ChipMixer.