Kialara company offers a new way to store bitcoins. Now coins can be saved in pictures instead of purses. New time of bitcoins in pictures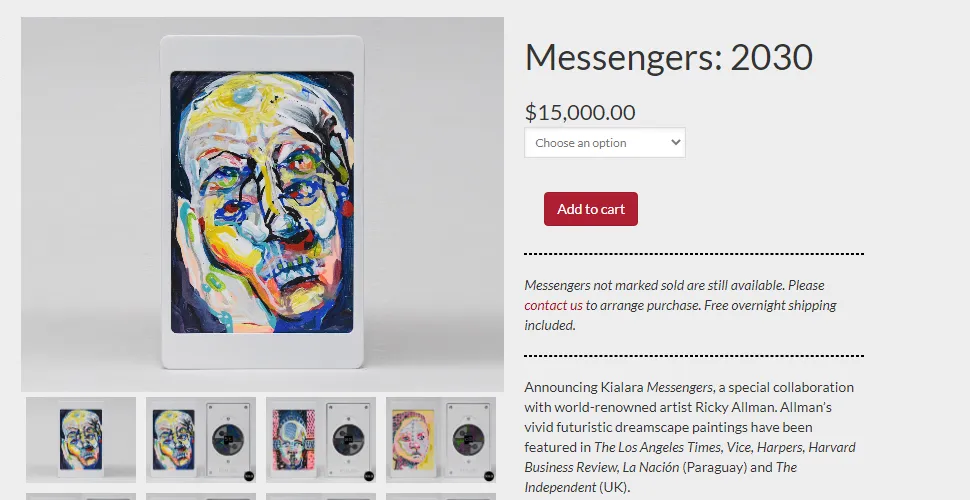 Diamonds in chairs, bitcoins in pictures

Now you can store bitcoins not only in cold and hot wallets but also in original digital pictures. Such a solution was proposed by the company Kialara. World-class works of art were taken as the basis, which were subsequently digitized and enclosed in a special frame. Inside each picture is encrypted 1.5625 BTC. To get the cryptocurrency, the holder must destroy the painting itself, thereby reducing the number of available copies.
"This is the paradox of Kialara and its genius. It provides not only an unprecedented level of physical protection, but also a powerful aesthetic and psychological motivation to preserve one's cryptocurrency wealth," the official statement reads.
The latest collection of bitcoin paintings is the Messanger collection, created in collaboration with world-renowned artist Ricky Allman. The cost of these digital paintings ranges from $10,500 to $15,000 apiece. At the same time, the owners of the object of art will not be able to get bitcoin until 2030.
Painting with bitcoin

Celebrities and artists go to the world of cryptocurrencies
The idea of storing bitcoins in a painting is not new. Recall that in November 2020, the first NFT auction was held, which sold 12 NTFs in the form of paintings by artist Simon Wang. In the code of one of the NTFs is hidden bitcoin. None of the participants and creators know exactly where the crypto coin is hidden, so any participant can become the lucky owner of a bitcoin. To find out, you need to unlock the NTF.
Last December, graphic designer Mike Winkelman, known as Beeple, launched a digital art sale, combining the tangible with the magic of blockchain. The first auction, took place on the Nifty Gateway platform. In the first five minutes of bidding, the author sold three NFT tokens worth $582,000; in total, he managed to earn $1.1 million at the auction. The artist promised to send all buyers digital frames in which to view the purchased paintings. Many of them are already being sold on the secondary market and for them are asking a lot more than the original cost.
The auction house Christie's will put up for sale a collage of five thousand digital works of the American artist Mike Winkelmann (pseudonym Beeple). The starting price for a painting called Everydays – The First 5000 Days will be $100. The auction itself is scheduled for February 25 in the online format.
Recently it was reported that Santiment revealed who dominates the bitcoin market.