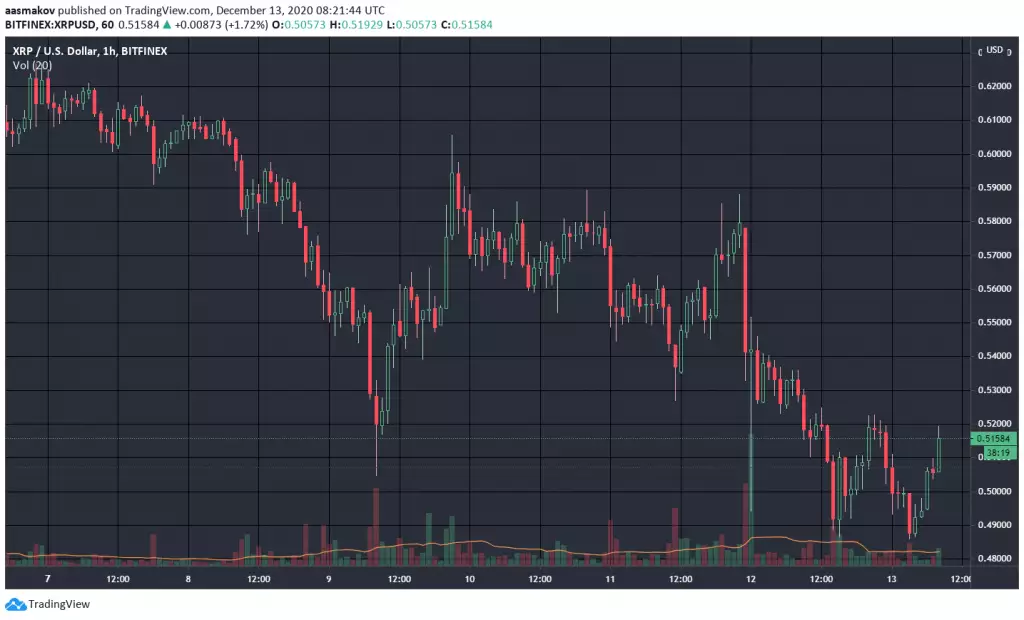 The price of the third largest digital asset XRP from Ripple fell on the night of Sunday, December 13, below $0.50, updating the minimum from the end of November. The decline occurred against the background of the upcoming Flare Network airdrop, during which XRP holders will receive free Spark tokens (FLR).
The snapshot of the XRP network was made at 00:00 UTC on Saturday, December 12. At that time, 23.5 billion XRPs were in circulation, 70% of which users kept on exchanges.
Among the platforms that supported airdrop are Coinbase, Kraken and Binance. The distribution of Spark tokens will begin with the launch of the project network.
The excitement around the Flare Network airdrop led to a sharp increase in the price of XRP in November, when the price of the token at a certain point soared above $0.90.
A day before the snapshot, the number of XRP addresses with volumes of more than 10 million tokens reached an absolute maximum of 339 wallets. In total, at least $1.8 billion was at these addresses alone at the exchange rate at that time.
However, immediately after the shot, the XRP price went sharply down. If all ten largest coins by market capitalization showed growth in the last day, then XRP at the moment lost 8% of the value. At the time of publication, the token trades about $0.51.
Flare Network develops solutions to implement decentralized finance (DeFi) into the XRP ecosystem by adding smart contract support. Spark's management token will be used as collateral for asset buybacks.
At the end of 2019, the development of the Flare Network was supported by Xpring, an investment division within Ripple.
Recently it was reported that hackers sold more than 85,000 databases in darknet MySQL for BTC.